The PRIME Program is Changing in 2023 for smaller employers
In an effort to help employers better understand their Occupational Health and Safety (OHS) requirements, WorkplaceNL is making changes to the PRIME incentive program.
In 2023, employers with less than $10,000 in average assessments and nine workers or less at each worksite (fewer than 20 workers for federal worksites) will be considered Path 1 employers.
Path 1 will help smaller employers improve their safety performance by providing education on OHS responsibilities and the importance of effective return-to-work programs.
Smaller employers in the construction industry must continue to be CORTM certified and will not be considered Path 1.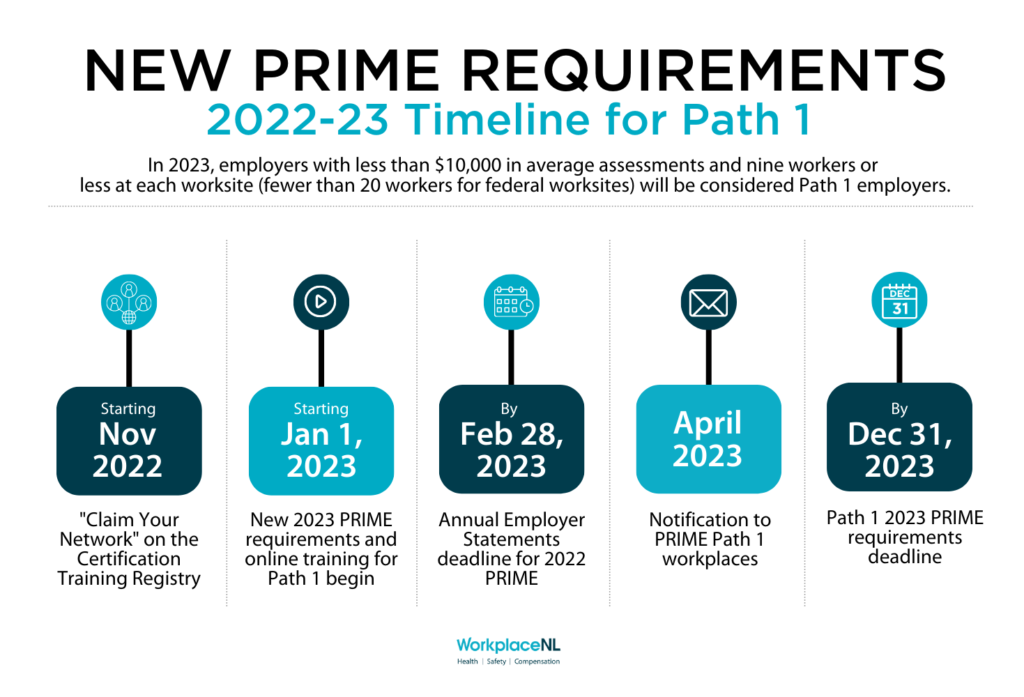 ---

By Dec 31, 2023, Path 1 Employers will be required to:
Have a trained Worker Health and Safety Representative or Designate in place.
Complete PRIME education course(s) as outlined by WorkplaceNL

At least one individual will need to complete WorkplaceNL's Return-to-Work course for the 2023 PRIME year.
This course is available through the CTR.
In 2024 and 2025, employers will be required to complete two courses each year and maintain Worker Health and Safety Representative or Designate Certification.
There will be no costs associated with online courses.
To qualify for your PRIME rebate, Path 1 employers will need to complete these three steps:
Claim your network.
Complete the required training.
Submit your Annual Employer Statement by February 28 each year.
Note: PRIME's financial incentives will remain the same and organizations must still pass the Practice requirements to receive the experience refund, if eligible.
Webinars
To learn more about the new PRIME program, register for one of our live scheduled webinars:

Video Resources
---

Claim your network in the CTR
To prepare for these changes, employers are encouraged to claim their network on the CTR. Claiming your network will help employers manage their workplace training requirements and view worker completion records. To learn more, view our How-to Guide.
Note: OHS Act amendments, which will come into effect on March 1, 2024, will modify the worker threshold with respect to occupational health and safety committee requirements. As a result, the number of workers for provincially regulated employers that will determine the category for PRIME will change from 10 to 20 workers. This change will impact the categorization of employers under PRIME. Further information on the impact will be communicated as information becomes available.
---

Frequently Asked Questions
a. What is changing under the revised PRIME program?
b. What is staying the same under the revised PRIME program?
c. When will the new PRIME requirements change?
d. How do I know if I am Path 1 for 2023?
e. What do I have to do in 2023 if I am Path 1?
f. If I already have the worker health and safety representative/designate course completed, do I need to complete it again?
g. Does the same worker have to complete all the courses?
h. How do I access the courses I need to complete?
i. Is there a cost for the five courses that need to be completed over the next three years?
j. How will WorkplaceNL know I have met the requirements for Path 1 (i.e. the required courses completed)?

Printable Handouts