Falls
Each year in Canada, over 42,000 workers are injured due to falls. Falls are a leading cause of injury in the workplace, whether they are caused by slips and trips, or falls from height. Falls can be prevented in many ways. Controls are called fall protection.
In most cases, falls can be prevented by:
Understanding how fall incidents happen
Identifying high risk areas
Eliminating or minimizing fall hazards
Completing certification training
Wearing appropriate fall protection equipment
Falls from any height can cause serious injury. Develop a fall plan to make sure all workers know the hazards, and appropriate controls are in place.
Click for more information about falls:
Fall Protection Certification Training Standard
The Newfoundland and Labrador Occupational Health and Safety Regulations, Section 139 states that a person shall not use fall protection equipment after January 1, 2012 unless they have completed a fall protection training program approved by WorkplaceNL.
The Fall Protection Certification Training Standard provides minimum criteria for the development and delivery of training programs and it applies to:
A person who is required under legislation to complete the certification training in fall protection (end-user of fall protection equipment);
An employer who employs a person who is conducting fall protection certification training programs (fall protection training provider); and
A person who is delivering fall protection certification training programs (trainer).
To view the certification training standard, click here.
Who must complete fall protection training?
Anyone who uses fall protection equipment in Newfoundland and Labrador must receive appropriate training as per WorkplaceNL's certification training standard. Recertification is required every three years.
Can I do the courses online?
No, fall protection courses must be completed in-class with a WorkplaceNL approved training provider.
How can I find course offerings?
To view course offerings by WorkplaceNL approved training providers, click here.
How long are the courses?
Fall protection training takes 16 hours to complete. Fall protection recertification training takes eight hours to complete.
I have a certificate from another province. Is it accepted in Newfoundland and Labrador?
No, certificates from other provinces are not valid in Newfoundland and Labrador.
What is the cost of each course?
Costs are set by individual training providers.
My fall protection training has expired, do I have to complete the two-day training again?
If your fall protection training expires, you must complete the two-day course. The one-day recertification training can only be completed before the training expiry date.
Falls from height are a common cause of injury in the workplace, and the leading cause of fatality in the construction sector.
There are many ways to prevent a fall. Use the hierarchy of controls to select fall protection methods. The best option is to eliminate the hazard. Fall restraint, also called travel restraint, prevents the worker from falling when used properly. Fall arrest should only be used when other controls are not practical or sufficient to protect workers. Worker can be injured by a fall, even when the system works properly.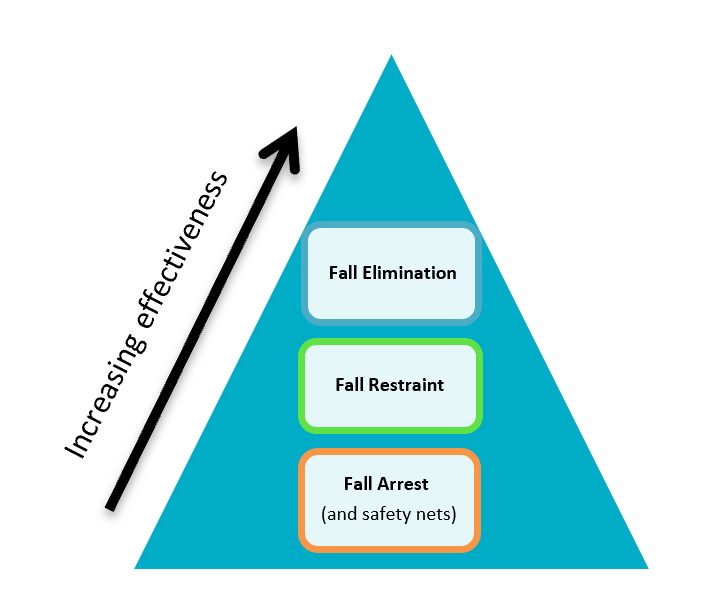 Newfoundland and Labrador OHS Regulations require fall protection: 
Three metres or more, above a safe surface or water;
Above a surface or object that could cause injury if a worker fell; or
Above an open tank, pit or vat that contains hazardous material.
Fall protection will prevent a fall (fall restraint), or bring the worker to a safer stop after falling (fall arrest). Fall restraint methods vary, from guardrails and temporary flooring to travel restraint systems. Fall arrest is a personal system or safety net.
Employer must develop and review a job-specific fall protection plan with workers when there is a risk for falling, and personal fall arrest systems or safety nets are used. The plan must be based on a risk assessment, and include procedures for the prompt rescue of workers that have fallen or are suspended in a fall arrest system or safety net.
Anyone who uses personal fall arrest systems or safety nets to work at height in Newfoundland and Labrador must complete a WorkplaceNL approved fall protection training course. 
Falls to the same level happen when there is a loss of balance, like a slip or trip.
Slips occur when there is a loss of footing due to incomplete contact between foot and ground, or loss of traction between foot and walking surface.
Trips occur when walking is interrupted by an obstruction or accidental error in stride.
Slips and trips are often caused by:
Slippery surfaces (frost, snow, ice, spills, mud)
Unanchored mats
Uneven surfaces (damaged or different leveled flooring, slopes, stairs)
Clutter
Blocked vision
Poor lighting
Inappropriate footwear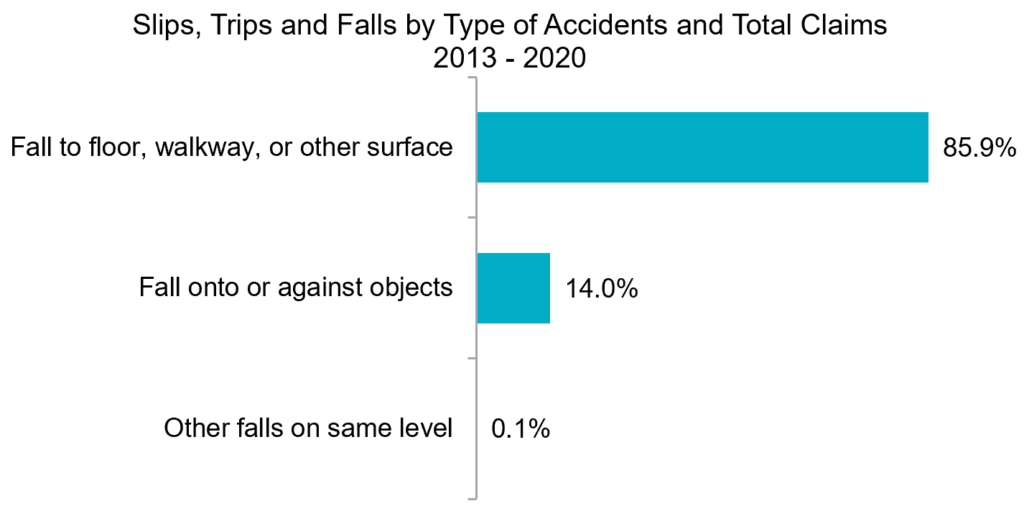 Watch how people, equipment, materials, environment, and process interact to identify slip, trip and fall hazards.
Actions and inactions can create hazards in the workplace. Appropriate administration, leadership and supervision help ensure procedures and safe practices are followed.
Tools and machines people use can contribute to slips, trips and falls. Consider processes that use liquid or fluids that may spill; mobile work surfaces or equipment that can affect balance; or machinery and equipment that use power cords. Improper handling and materials, products, or equipment can create slip, trip and fall hazards.
Some slip, trip and fall hazards are created by the work environment, like condition of surfaces where people walk or where things are placed, crowded work surfaces, inadequate lighting, weather conditions, and poor housekeeping.
Use the hierarchy of controls to manage identified hazards.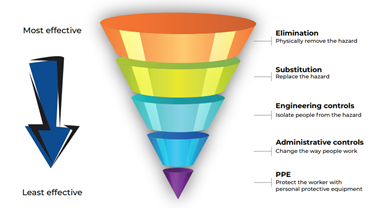 How can we eliminate the fall hazard completely from the workplace?
Fix cracks in a walkway
Remove ice or snow
Remove uneven surfaces
Install more power outlets to eliminate cords crossing walkways
Install slip-resistant flooring
Store items at proper height
Install sufficient lighting
Provide temporary flooring
When elimination of the hazard is not possible in a workplace, explore other controls. There is often a combination of two or more controls. Substitute a hazard for something less hazardous.
Engineering controls include:
Apply floor treatments to increase slip resistance.
Ensure stairs and railings meet OHS Regulations.
Improve lighting –provide enough lighting inside and outside, including stair wells, corridors, walkways, etc.
Maintain equipment and machinery.
Provide adequate drainage – contain and drain liquids as close as possible to the source; use slip resistant floor grates; use trays to collect liquid and waste, empty regularly.
Ensure proper ventilation –prevent build-up of steam, condensation and grease on floors.
Provide storage away from work areas, keep materials out of aisles, securely stack goods and avoid single towering stacks.
Provide enough power sockets and computer service jacks to minimize cords on the floor. If cords must run across floors, use highly visible covers. Minimize changes in flooring.
Remove or cover protruding floor sockets.
Hang power cords over work areas instead of on the floor.
Administrative controls change how work is done. Examples include:
Display warning strips and signs to alert pedestrians about changed or uneven surfaces.
Route pedestrians to avoid wet and slippery areas.
Develop safe work practices and job procedures.
Implement a preventative maintenance program to keep equipment and machinery working properly.
Education and training.
Inspect workplaces and investigate incidents.
Personal protective equipment is the last line of defense.