Youth Safety Training Bursary
WorkplaceNL and Cenovus Energy have partnered to help youth aged 15-19 advance their safety knowledge by offering bursaries of up to $350 to help cover the costs of eligible safety training.
The aim of the Youth Safety Training Bursary is to:
Help youth advance their safety knowledge
Provide greater competency for youth to protect themselves at work
Enhance formal safety training and increase youth employment opportunities
Make health and safety courses available to all youth


Spring 2022 Recipients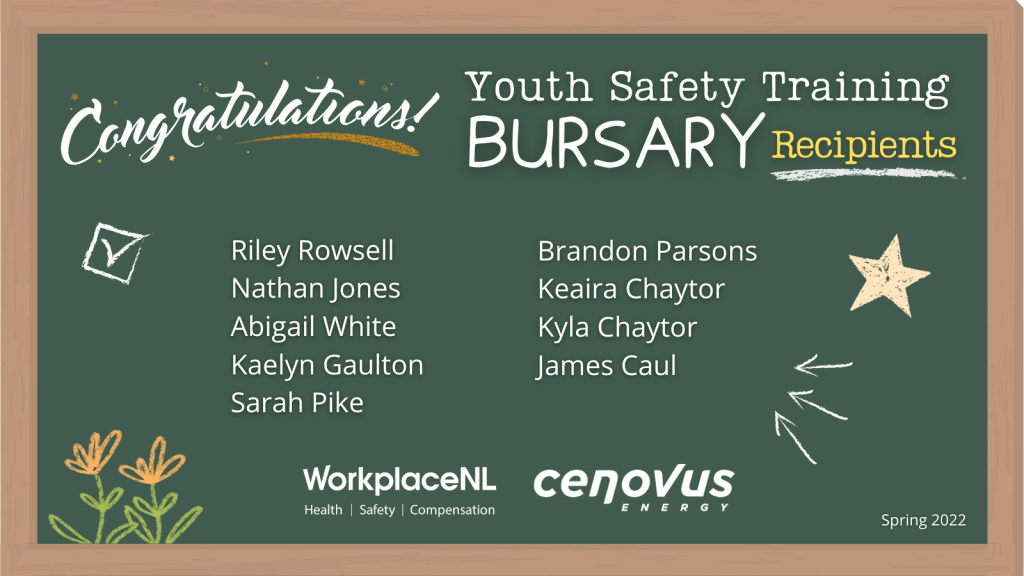 Bursary details:
Training bursaries must be used within one year of being issued.
The bursary is for course registration fees only. Applicants are responsible for outside costs, such as travel.
The Youth Safety Training Bursary is open to 15-19-year-olds in Newfoundland and Labrador, except members of the immediate family of employees and retirees of WorkplaceNL.
Each applicant can apply for a maximum bursary of $350. The applicant is responsible for any additional costs.
Bursaries are issued in April and October.
Applications must be submitted by April 30 for awarding of the bursary in May.
Applications must be submitted by October 31 for awarding of the bursary in November.
Bursaries are non-repayable.
Bursary payments are made directly to the training provider.
Successful bursary recipients may not re-apply for additional bursaries.
WorkplaceNL may choose not to award a bursary if an acceptable application is not received.
Selection is based on the merit and quantity of the applications.

To be eligible, applicants must:

Examples of eligible safety training courses:
Safety training courses that may be eligible to receive a safety training bursary include (but are not limited to):
Fall protection
Confined space entry
Forklift training
WHMIS
Traffic control person
First aid
COR training
OHS committee training
Please note: University or College credit courses are not eligible to receive a safety training bursary.

Submission of application:
Email completed applications to youth@workplacenl.ca.