COVID-19 Client Service Updates
We are available to serve you by phone, email, mail, or our online services: MyWorkplaceNL (for injured workers) and connect (for employers). For more information, please see our online services page.
Our counter services are currently suspended. We do offer a drop-box near our front door if you wish to deliver documents directly to one of our offices.
We are here to help. If you have any questions, please call us at 1.800.563.9000 or 709.778.1000, or email info@workplacenl.ca.
For injured workers
MyWorkplaceNL is now available for injured workers to submit a Report of Injury (Form 6), view claims and payment information, and live chat with an Information Officer online.
To register, click MyWorkplaceNL or click "Online Services" on the top right hand corner of our webpage. Visit the Online Services section for more information, including how-to videos to introduce you to MyWorkplaceNL.
Claims
We want to reassure our clients that we are adjudicating and managing claims for work-related injury and illness.
Any worker in receipt of benefits who is not yet set up on direct deposit is urged to do so by submitting a Direct Deposit Authorization form.
Clients may continue to call their case management team directly or email info@workplacenl.ca.
Services that are continuing:
(NEW!) MyWorkplaceNL online service to submit a Report of Injury (Form 6) and view claim and payment information
Adjudicating new claims
Managing claims
Internal reviews
For more information, see the FAQs (Frequently Asked Questions) below.
For employers
Services that are continuing:
All connect online services, including clearance letters and payroll estimate updates
Health and safety advisory services
WorkplaceNL-hosted health and safety webinars
New employer registrations
Optional Personal Coverage for independent operators
Account updates
Pay my account: Payments from employers by pre-authorized debit, cheque, money order, or through your financial institution – cash is not accepted
OHS Committee minutes processing
Internal reviews
Certification trainer assessments and audits (using both virtual and in-class)
PRIME audits for small employers (virtual)
Assessment audits (virtual)
Services that are suspended until further notice:
WorkplaceNL-hosted health and safety in-class workshops
On-site visits for PRIME audits, OHS audits and hygiene assessments
COVID-19
Everyone has a role to play to mitigate the potential impacts of COVID-19. Use simple everyday hygiene measures at all times.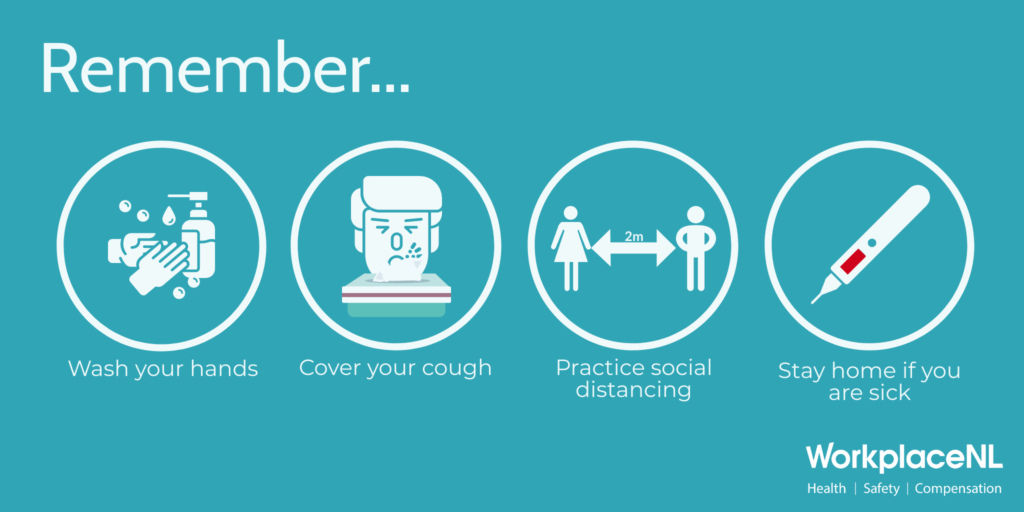 The public health risk is continually reassessed as new information becomes available. Stay up-to-date with information from reliable sources, such as:
Government of Newfoundland and Labrador
Public Health Agency of Canada
Resources
FAQs
Questions about health and safety
Is COVID-19 work-related?
What if a worker believes they contracted COVID-19 at work?
What is COVID-19, and how does it spread?
What role / responsibility do employers, supervisors and workers have in helping prevent the spread and preparing a response for COVID-19 in their workplace?
What should I consider in a risk assessment in my workplace for COVID-19?
Questions about your claim
Does a worker need a confirmed diagnosis of COVID-19 to receive benefits?
Does WorkplaceNL cover workers during self-isolation or quarantine when they are not sick?
How is work-relatedness of COVID-19 claims determined?
How will WorkplaceNL determine if a COVID-19 claim is accepted?
My business has been affected by COVID-19. What does this mean for my workers with existing claims?
What if a worker already has a WCB claim?
When is a COVID-19 claim accepted?
Questions about your account
How do I apply for Optional Personal Coverage now? Normally I would print the form from the website, complete it and drop it off to WorkplaceNL office with cheque?
If our business receives funding in the form of a wage subsidy from the federal or provincial governments, are these amounts considered assessable?
Is Out of Province coverage still available through WorkplaceNL and what is the process to apply?
My account has a credit balance. How do I request a refund?
My business has suspended operations due to COVID-19, but we are continuing to pay our employees while they are at home and not working. Is this payroll included in assessable payroll?
What can I do if my business will not re-open this year or if my payroll will be less than I anticipated?