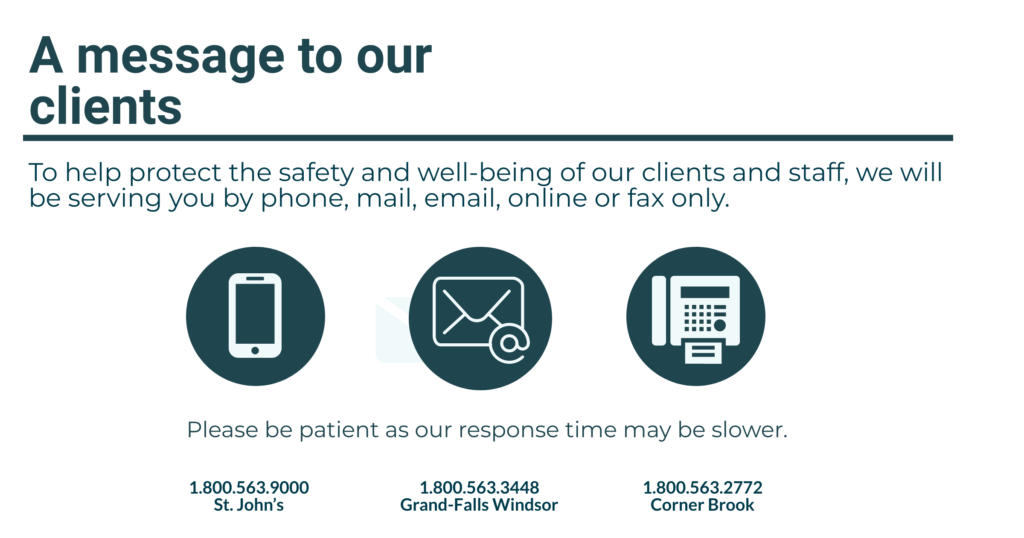 WorkplaceNL is using social distancing measures to help proactively "flatten the curve" of the spread of COVID-19. We have reduced operations, with less staff, to focus only on core services. Clients may also call their case management team directly or email info@workplacenl.ca
For injured workers
We want to reassure clients that all wage-loss benefits associated with an active work-related injury claim will continue. Issuing payments to injured workers is a priority for us as we operate at reduced capacity in order to practice social distancing.
Any worker in receipt of benefits who is not yet set up on direct deposit is urged to do so by submitting a Direct Deposit Authorization form.
We will continue to cover medical appointments but understand if you are not able or not comfortable attending health care appointments relating to your claim during the COVID-19 pandemic. You do not need to notify your case manager and it will not affect your benefits.
We will also continue to cover injured worker's prescription medications as usual through our third party provider, Claim Secure and have asked them to automatically extend any existing medications being covered as "exceptions" for another 3 months.
Services that are continuing:
Wage-loss benefits for anyone with an active claim (by direct deposit and cheque – anyone not yet set up on direct deposit is urged to do so by submitting a Direct Deposit Authorization form)
Adjudicating new claims
For employers
To help businesses in the province during the COVID-19 pandemic, we are deferring the collection of employer assessment payments and waiving interest charges or penalties until June 30, 2020.
This means that all insured employers will not have to worry about paying assessments until July 2020. The deferral will be applied to all existing payment plans and post-dated cheques. Employers do not need to contact WorkplaceNL.
Services that are continuing:
All connect online services, including clearance letters
Health and safety advisory services
WorkplaceNL-hosted health and safety webinars
New employer registrations
Optional Personal Coverage for independent operators
Account updates
Payments from employers by pre-authorized debit, cheque, money order or through your financial institution – cash and Interac® are not accepted
Services that are suspended until further notice:
In-person counter service and face-to-face meetings
WorkplaceNL-hosted health and safety in-class workshops
PRIME audits
OHS audits
Hygiene assessments
Certification trainer assessments and audits
OHS Committee minutes processing
Internal review and requests for file information
Coronavirus disease 2019 (COVID-19)
Everyone has a role to play to mitigate the potential impacts of COVID-19. Use simple everyday hygiene measures at all times.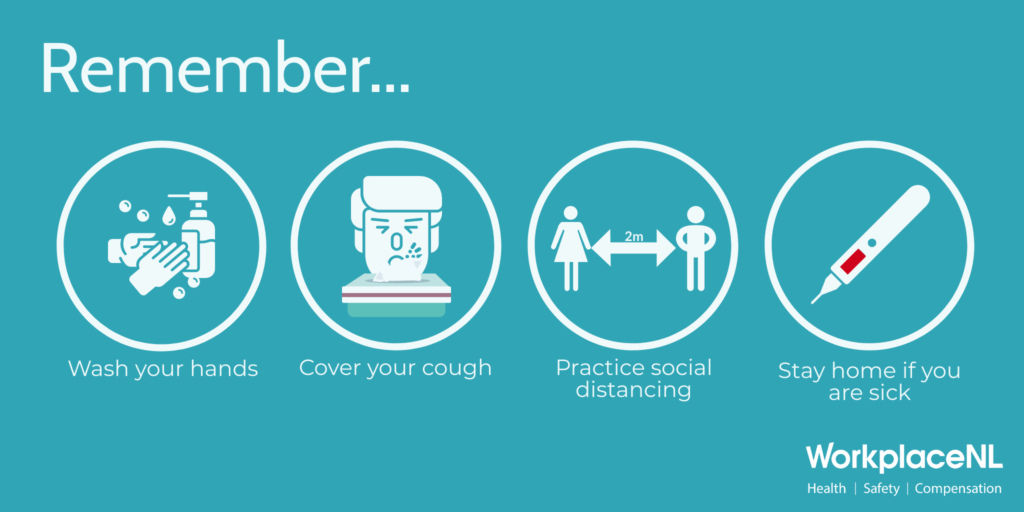 The public health risk is continually reassessed as new information becomes available. Stay up-to-date with information from reliable sources, such as:
Government of Newfoundland and Labrador
Public Health Agency of Canada
Resource
FAQs
What is COVID-19, and how does it spread?
What preventative measures can we use in our workplace to mitigate the spread of COVID-19?
What role / responsibility do employers, supervisors and workers have in helping prevent the spread and preparing a response for COVID-19 in their workplace?
What should I consider in a risk assessment in my workplace for COVID-19?