Psychological Health and Safety Virtual Learning Series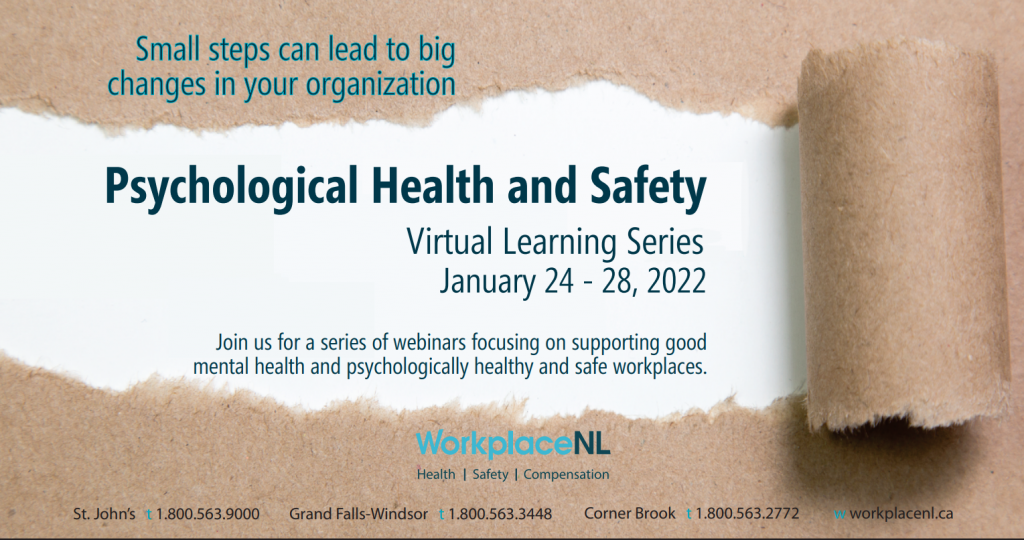 The Psychological Health and Safety Virtual Learning Series takes place from January 24-28, 2022 to raise awareness of psychological health and safety in the workplace. Participants will learn practical solutions for lowering the risk of psychological hazards to worker's mental health.

Psychological hazards are in every workplace in Newfoundland and Labrador. No workplace is immune to the negative effects of these hazards on workers physical and mental health. Psychological hazards are found in the way work is organized and managed, and the quality of relationships in the workplace.
The best way to control risk to workers is to find these hazards and put measures in place to lower the risk of psychological injury to workers.
The latest statistics show us that many individuals, families, workplaces and communities are affected by mental health issues in Canada.
Click here for Psychological Health and Safety resources.
Psychological Health and Safety Webinars
Mindful Minute 1 – The Name Game
Have you ever felt overwhelmed during your workday by your thoughts? It is very common, and something we have all struggled with at one point. The Name Game is a simple technique to help you manage your emotions and anxiety in the moment. After, you should feel present and calm. If you are feeling overwhelmed, stop what you are doing, look around and slowly name:
5 things you can see
4 things you can touch
3 things you can hear
2 things you can smell, and
1 thing you can taste

Mindful Minute 2 – Deep Breathing Exercises
Taking deep breaths through the diaphragm is a simple way to relieve stress, even while working.
Start by breathing in and out slowly, aim for a cycle to last about 6 seconds.
Breathe in through your nose and out through your mouth, letting your breath flow effortlessly.
Let go of your thoughts. Try not to focus on work, responsibilities, or anything that needs your attention.
Focus on your breath, feel it enter your body and fill you with life.
Let your awareness follow your breath as it works work its way up and out of your mouth and its energy dissipates into the world.

Mindful Minute 3 – Gratitude List
When you wake up, or before you go to bed, take a moment to write 3 to 5 things that you are grateful for. Gratitude lists help you focus on what is working for you, and helps ground you when you are having a difficult time. Be specific. Instead of just writing down 'I am grateful for my job.' try: 'I am grateful for the time and resources to finish my job tasks.'

Mindful Minute 4 – The Chime Game
If you have a chime or a bell, ring it once and observe the moment you can't hear the sound anymore. Focus on the sound, and let the stress of the day melt away. If you don't have chime, you can use another musical instrument or you can find a sound on the internet or on your phone.

Mindful Minute 5 – Mindful Movement
Go for a walk and pay close attention to everything you see and hear. Take in the world around you. Pay attention to the air, temperature, sounds and smells around you. You will feel a better appreciation for your environment and more calm and at ease when you are done.
Stretch areas of your body that tighten during the day. Hold these stretches for at least 30 seconds at a time and breathe deeply as you hold them. Be mindful of what you are stretching and the feel of oxygen rushing through your system as you do it—it will help you learn to be more mindful of your body.
FAQs
What are some factors that can impact an employee's mental health at work?
There are 13 workplace psychosocial factors known to positively impact an employee's mental health, psychological safety, participation, and productivity. If these factors effectively exist in the workplace, they have the potential to prevent psychological harm.
The 13 factors of psychological health and safety in the workplace are:
Psychological support: A workplace where co-workers and supervisors are supportive of employees' psychological and mental health concerns, and respond appropriately as needed.
Organizational culture: A workplace characterized by trust, honesty and fairness.
Clear leadership and expectations: A workplace where there is effective leadership and support that helps employees know what they need to do, how their work contributes to the organization, and whether there are impending changes.
Civility and respect: A workplace where employees are respectful and considerate in their interactions with one another, as well as with customers, clients and the public. Civility and respect are based on showing esteem, care and consideration for others, and acknowledging their dignity.
Psychological demands: A workplace where the psychological demands of any given job are documented and assessed in conjunction with the physical demands of the job. Psychological demands of the job will allow organizations to determine whether any given activity of the job might be a hazard to the worker's health and well-being.
Growth and development: A workplace where employees receive encouragement and support in the development of their interpersonal, emotional and job skills.
Recognition and reward: A workplace where there is appropriate acknowledgement and appreciation of employees' efforts in a fair and timely manner.
Involvement and influence: A workplace where employees are included in discussions about how their work is done and how important decisions are made.
Workload management: A workplace where tasks and responsibilities can be accomplished successfully within the time available.
What are some indicators of a psychologically unhealthy or unsafe work environment?
Some common indicators that a workplace is not psychologically healthy and safe include:
Frequent workplace conflict
Low levels of job satisfaction
High number of requests for early retirement, transfers, or resignations
Workplace injuries / illnesses
Difficulties returning workers back to work (longer durations of absences from work)
Employees seek help for stress, mental distress or diagnosed psychological illness
Poor levels of employee engagement
Quality of work
Low productivity / frequently missed timelines or sales targets
Complaints from customers
Poor outcomes for clients
What is a psychologically healthy and safe workplace?
A psychologically healthy and safe workplace promotes workers' psychological well-being and actively works to prevent harm to worker psychological health, including in negligent, reckless or intentional ways.
What resources are available to help implement the standard in my workplace?
Workplace Strategies for Mental Health website, part of The Great-West Life Center for Mental Health in the Workplace,  is a leading source of free, practical tools and resources designed to help Canadian employers with the prevention, intervention and management of workplace mental health issue. Includes information to:
Increase knowledge and awareness of workplace psychological health and safety
Improve the ability to respond to mental health issues at work
Turn knowledge into action through practical strategies and tools for employers
All tools and resources are available in English and French to anyone, anywhere, at no cost.
Guarding Minds at Work resources allow employers to effectively assess and address the 13 psychosocial factors known to have a powerful impact on organizational health, the health of individual employees, and the financial bottom line. Guarding Minds at Work is available to all employers – large or small, in the public or private sector -­ at no cost.
The Canadian Mental Health Association and the Mental Health Commission of Canada collaborated to create the Takeaways Toolkit. The toolkit was informed by the MHCC's 2018 Case Study Research Project (CSRP) on how 40 workplaces have implemented the National Standard for Psychological Health and Safety in the Workplace. Offering best practices and activities, The Takeaways Toolkit is meant to guide other workplaces to help put the Standard into practice.
The Psychological Health and Safety in the Workplace is a voluntary standard that specifies requirements for a documented and systematic approach to develop and sustain a psychologically healthy & safe workplace. Download for free.
Why should employers be concerned about psychological health?
Investing in a psychologically healthy workplace is good for business. When you protect workplace mental health, the result is lower total medical costs, increased productivity, lower absenteeism and presenteeism, and decreased disability costs.